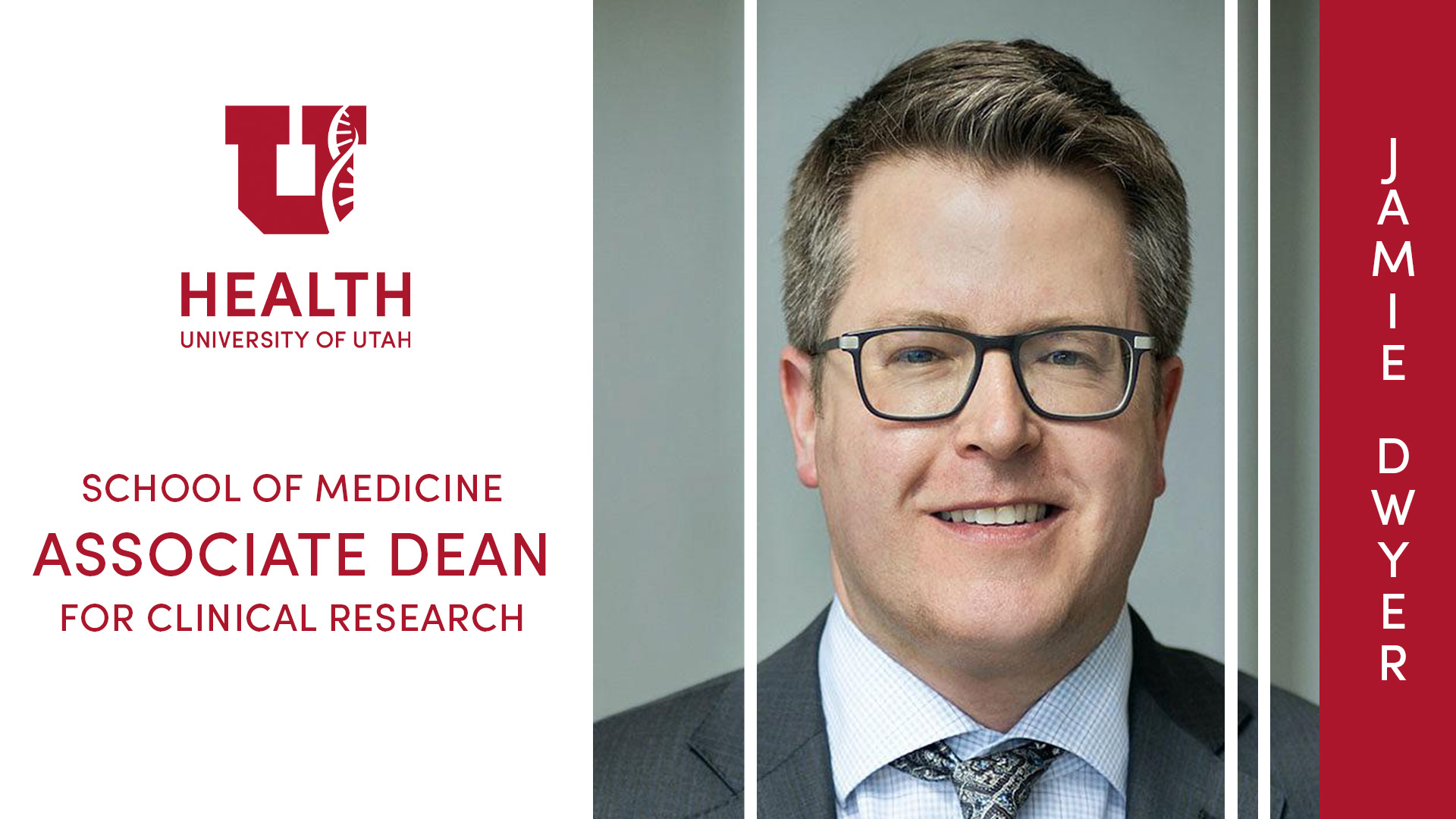 Jamie Dwyer, MD Appointed SOM Associate Dean for Clinical Research | University of Utah Health
At the start of the 2022-2023 academic year, Jamie Dwyer, MD was named the new Associate Dean for Clinical Research for the School of Medicine. Dr. Dwyer assumed the position on July 1 of this year, replacing Michael Dean, MD, MBA, who had held the position for several years.
Regarding the nomination, Rachel Hess, MD, MS, AVP for Research, and Chris Hill, DPhil, SOM Dean for Research joined in writing, "Jamie Dwyer brings deep expertise in the design, conduct and analysis of large randomized clinical trials. His experience at Vanderbilt University demonstrates a record of excellence in building and leading teams in the university setting. He is a spectacular choice to help the University of Utah Health realize its tremendous potential in clinical research.
Dr. Dwyer is Professor of Medicine in the Division of Nephrology and Hypertension, and Director of the Utah Data Coordinating Center and Clinical Research Support Office of the Clinical and Translational Science Institute at U.
He is currently Chairman of the Board, President and Principal Investigator of the non-profit organization Collaborative Study Group (CSG), an international academic research organization dedicated to designing, conducting, analyzing and exceptionally rigorous communication of major international clinical trials. He has served on several executive and steering committees for large trials, particularly on CKD progression and cardiovascular outcomes.
Dr. Dwyer is a practicing clinical nephrologist who sees patients across the spectrum of kidney disease. He is an accomplished and highly regarded educator, receiving numerous teaching awards, culminating in his election to the Vanderbilt Academy for Excellence in Education in 2013.
Dr. Dwyer received an ScB degree in Mathematics and Latin from Brown University in 1996 and an MD with honors from Brown University School of Medicine in 2000. He trained as a medical intern at Mayo Clinic Florida, where he served as chief medical resident. He trained in nephrology and clinical research at VUMC. After a faculty appointment at Mayo Clinic, he joined the Division of Nephrology at VUMC in 2008. In 2022, he joined the U