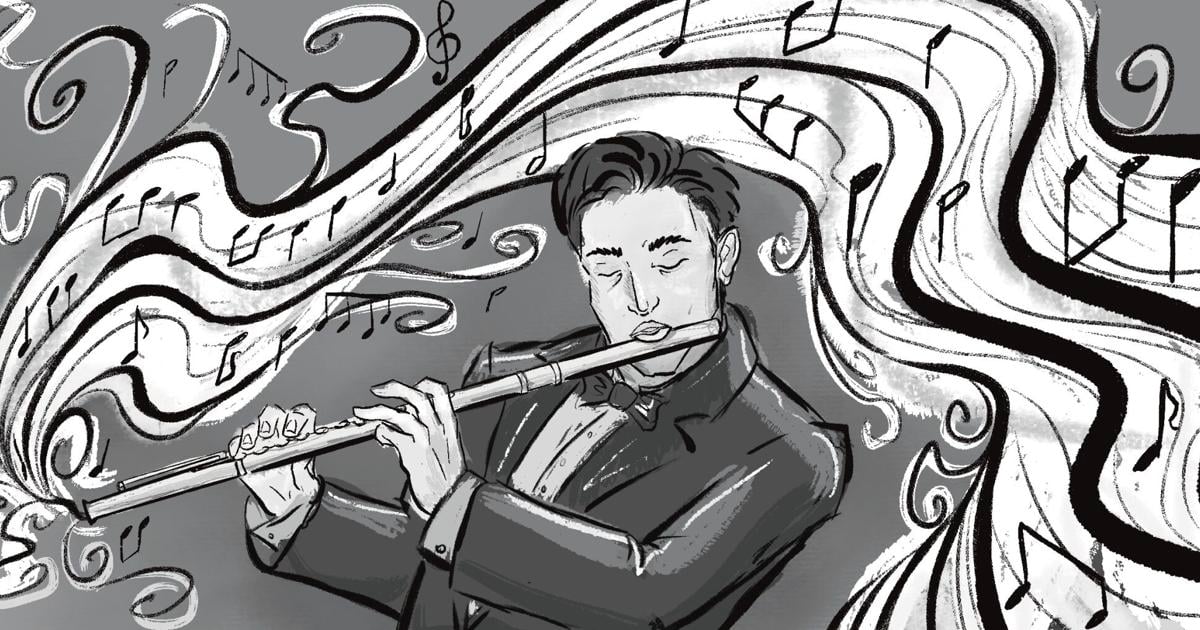 Guest artists join ECU SoM for its annual In Guest Artist residency | East Carolina
East Carolina University's School of Music (SoM) will host three guest artists for the In Guest Artist Residency event on March 2-3, which will include an open recital at 7:30 p.m. on March 2 and masterclasses for students from noon to 6 p.m. 3rd of March.
Christine Gustafson, a flute teacher and chamber music coach, said the SoM had been trying since the start of COVID-19 to bring Aleksandr Haskin, an international flautist, to join ECU as a guest this year. Haskin will also be joined by pianist Jaun Pablo Andrade and flautist Ethan Lin-Schwartz.
"We would normally have an extra guest or two, but during COVID-19 we really can't do that," Gustafson said. "It's still not safe and we want to be really, really careful to keep things as safe as possible, especially with an artist coming internationally."
Select SoM students will have the opportunity to perform in the recital alongside guest artists on March 2, Gustafson said. She said Haskin and Andrade will also host masterclasses that SoM flute and piano students can attend.
The students who were chosen to perform in the recital with the guest artists were chosen because of their skill and knowledge of the instrument, Gustafson said. She said she frequently spoke with guests about what they would be performing in the program and what her students would be performing in the masterclasses.
"Sometimes we were able to involve the orchestra, this time because of COVID-19 it's a quieter, smaller event, but it's still very exciting for us," Gustafson said. "We've been trying to get these people here, Dr Haskin and Dr Andrande, for two years and we lost him because nobody could travel."
Dale Cox, a sophomore in music education and a flute specialist, said he would perform in one of Haskin's masterclasses. He said he had only been playing the flute for three years and was honored to work with such a renowned artist.
During the masterclass, the guest artist gives students feedback on the pieces they worked on, Cox said. He said that instead of their regular instructor giving them feedback and instructions, the guest artist's job is to focus on what the students are doing right and wrong with a fresh ear.
"I am very grateful to finally be able to work with another male flautist because all the flute teachers I have had for the past three years have always been women, so it will be interesting and pleasant to finally be able to work with someone the same stature as me," Cox said.
To prepare for the masterclass, Cox said he did a lot of practice and research on the piece he chose to prepare. He said that by researching the chosen piece of music and the artist who wrote it, it helps both the student and the guest artist to learn correctly how to perform the piece the way it was meant to be interpreted.
The students selected to participate in the masterclasses were chosen by Gustafson, who tried to be as gender and age inclusive as possible at SoM Flute Studios, Cox said. It is advantageous for students to learn from a different artist than their teacher, as it allows for new help and guidance than before.
"We're hearing some really great music coming from one of the best flautists in our world, and he's incredibly talented, so I'm very grateful," Cox said.
Kasey Oregon, a SoM junior and music ambassador, said she will perform Francis Poulenc's "Sonata for Piano and Flute" in the masterclass.
Oregon said the masterclass includes performing the piece in front of guest artists, where they will coach them in a public setting to get constructive criticism. She said the experience would give her insight into how to perform better in front of her peers. This is to ensure that there are always improvements.
"I chose this piece because it was one of the pieces I played for my junior recital," Oregon said. "It was familiar to me, so it was easy for me to piece it together and prepare for this event."
Oregon said that in preparation for the event, they would need to know several facts about the composer, such as his nationality and what he did for a living, and what the piece is about, such as when it was written and when it was created. For her performance, she will work alongside a pianist.
As for the SoM's future plans, Oregon said they usually create a new music initiative project where students get together and discuss promising composers to commission pieces from new musicians. Recently they got an African American composer named Kevin Day.
Oregon said Day was composing a track for them. Each year they usually bring in a new composer and look to the school to compose, she said. Each studio has a guest artist, so there will be one for collaborative piano students.
"It's an honor to meet someone who is such a promising flautist. It's even an honor to see him play because of his fame, his promising outlook that he's establishing," Oregon said.