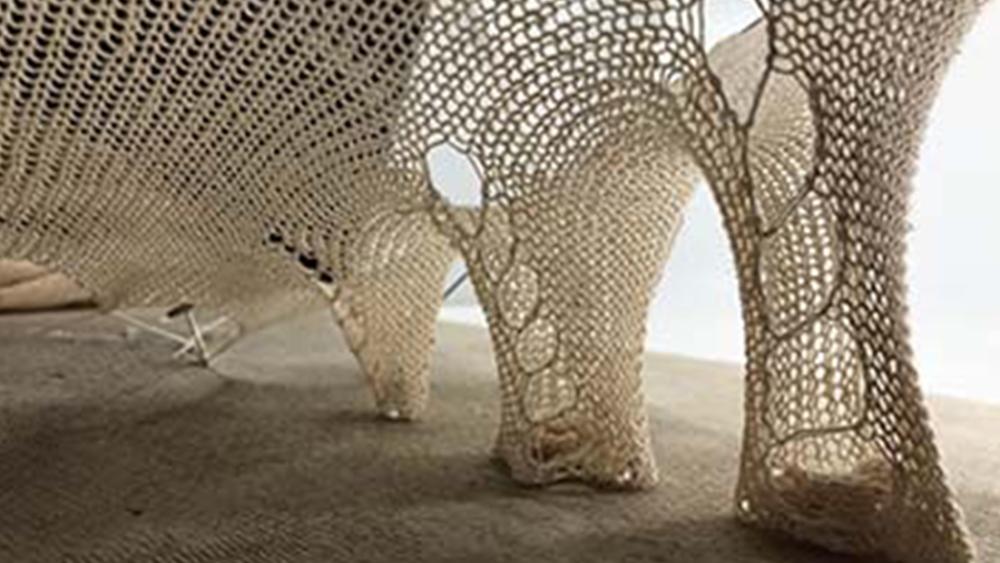 Penn State Interdisciplinary Team Receives SOM Foundation Research Award
Ghazvinian, a ForMat Lab researcher, worked with Gürsoy on mycelium-based composites and how they can be used in building structures. Pecchia worked alongside researchers from the ForMat laboratory to cultivate the mycelium-based composites.
"This collaboration will allow us to develop design and manufacturing workflows for 'MycoKnit,' which are lightweight, biodegradable composite structures," Davis explained. "The two materials – the knitted fabric and the mycelium – work together to form a tight-knit composite that has tension from the knitted base and compression from the dried mycelium fungus. The combination can make a strong, lightweight building material.
The two materials, which were created individually by SOFTLAB and ForMat Lab, respectively, work together to create a lightweight material for biodegradable architectural structures.
"In this research, we will experiment with growing mycelium-based composites on knitted textiles with organic yarns," Gürsoy said. "The mycelium will break down and bind these threads together as it grows, creating a composite system that benefits from both the compressive strength of the mycelium and the tensile strength of textiles."
According to Gürsoy, Mycoknit offers great environmental advantages over conventional materials such as concrete and steel, which account for more than 20% of global carbon emissions. She went on to explain that 40% of consumer waste comes from construction and demolition.
"Therefore, there is a need to find sustainable alternatives for building materials with low embodied energy and therefore low carbon footprint; that are biodegradable and produce no or less construction waste that goes to landfills; and that are renewable, so they don't rely on limited resources," Gursoy said. "Although the use of mycelium-based composites in construction is still in its infancy and experimental, these materials offer great environmental benefits."